Mission
Kansas families have informed and equitable access to seamless, comprehensive supports and services that ensure the wellbeing and lifelong success of all.
Vision
Connected Families, Connected Communities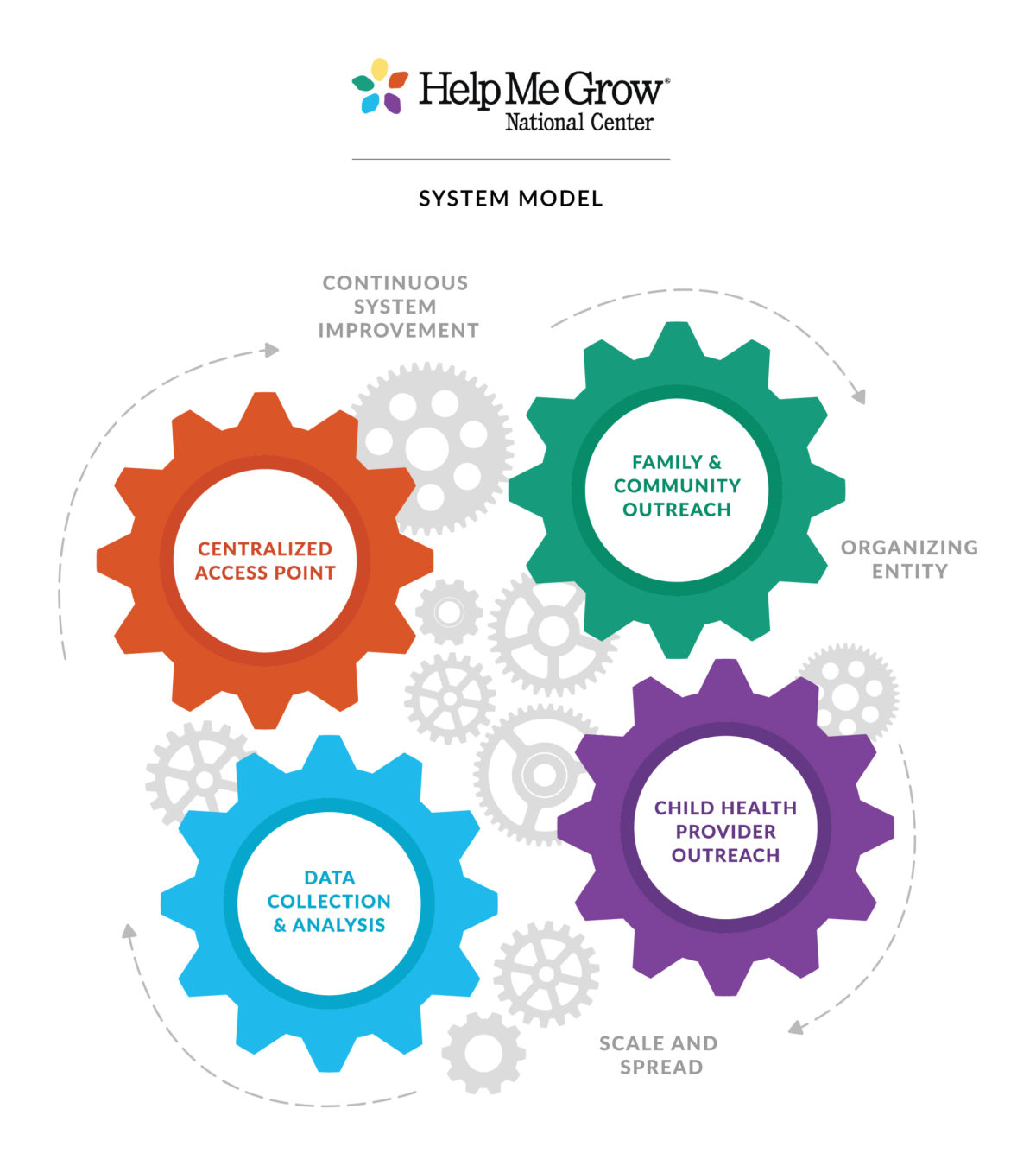 Help Me Grow is a framework that promotes integrated, cross-sector collaboration in an effort to build a comprehensive early childhood system. Successful implementation of Help Me Grow leverages existing community resources, maximizes opportunities, and advances partnerships working collaboratively. The Help Me Grow framework has four core components or system priorities: Family & Community Outreach, Child Health Care Provider Outreach, Data Collection, and Centralized Access Point.
Family & Community Outreach supports education to advance developmental promotion and provides connection opportunities among families and providers.
Child Health Care Provider Outreach supports early detection and intervention.
A Centralized Access Point connects children and families to services and care coordination in their community.
Data Collection & Analysis supports evaluation, helps identify systematic gaps, bolsters advocacy efforts, and guides quality improvement to ensure children and families receive the services they need, when they need them.
Families
Learning about developmental health and how to monitor a child's development helps ensure the best possible start for school and supports lifelong learning.
Providers
Providers are uniquely positioned to help nurture healthy development through daily interaction and to help parents understand the importance of developmental monitoring.
Communities
Communities benefit from healthy child development by raising the next strong generation of citizens, parents, teachers, volunteers, and employees.
Why is early childhood developmental health important?
A child's brain grows the fastest in early childhood.
Early childhood is a vital period of brain growth. This growth is maximized by supporting cognitive, social, and emotional development through quality early learning
Investments in early childhood yield significant dividends.
10% Return for every dollar invested in early childhood education annually for the life of the child.
Reduced social costs through investments in early childhood education for at-risk children.
Supportive relationships and healthy environments are critical in the early years.
Strong family environments are major predictor of child's cognitive and social abilities and life outcomes such as crime and health.
Children' Cabinet & Trust Fund
Child Care Aware
Children's Mercy Hospital
Family Advisory Council
Kansas Child Care Training Opportunities
Kansas Children's Service League
Kansas Department of Children & Families
Kansas Governor's Office
Kansas Head Start Association
Kansas Department of Health and Environment, Maternal & Child Health
Kansas State Department of Education
Oral Health Kansas
Place-based Community Partners
Ellis County
Geary County
Southeast Kansas
Special Supplemental Nutrition Program Women, Infant, and Children (WIC)
United Methodist Health Ministry Fund
University of Kansas
University of Kansas Medical Center
University of Kansas, Center for Public Partnerships & Research